MapleStory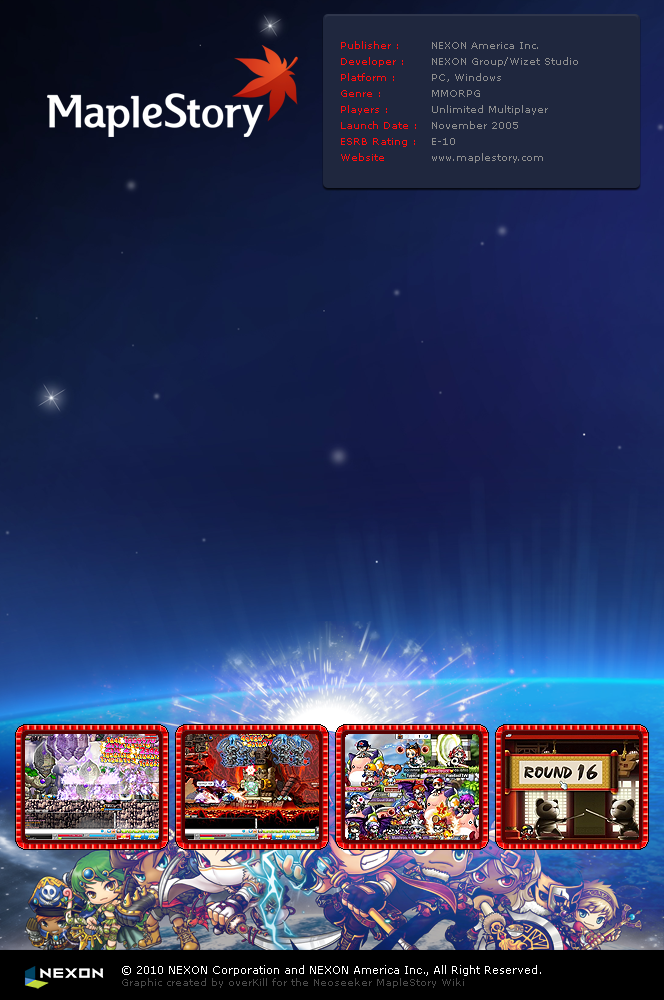 MapleStory is a 2D, side-scrolling, Massively Multiplayer Online Role-Playing Game (MMORPG), published by Nexon America. The game is provided totally free with no level or content restrictions, while many character customization and convenience items can be purchased from the "Cash Shop" with actual currency, known as "NX Cash." MapleStory has 7 million registered players in North America and 95 million worldwide. Like all of Nexon America's offerings, MapleStory is free to play and is free to download at
maplestory.nexon.net
Gameplay in MapleStory is real time and combines elements of an action-platformer and a more traditional RPG. Players can experience any of the 20 unique character classes, each with dozens of skills to learn and hundreds of items to acquire. Players become more powerful by defeating monsters, completing quests, solving puzzles with skill and intelligence, or delving deep into a dungeon with a group of friends. The 2D perspective and eye-catching art style make the game easy to start while the huge array of skills and items make it hard to put down. Endless character customization allows players to stand out from the crowd with looks that range from fashion model to total freak. With frequent content updates, there is always more of the Maple World to explore.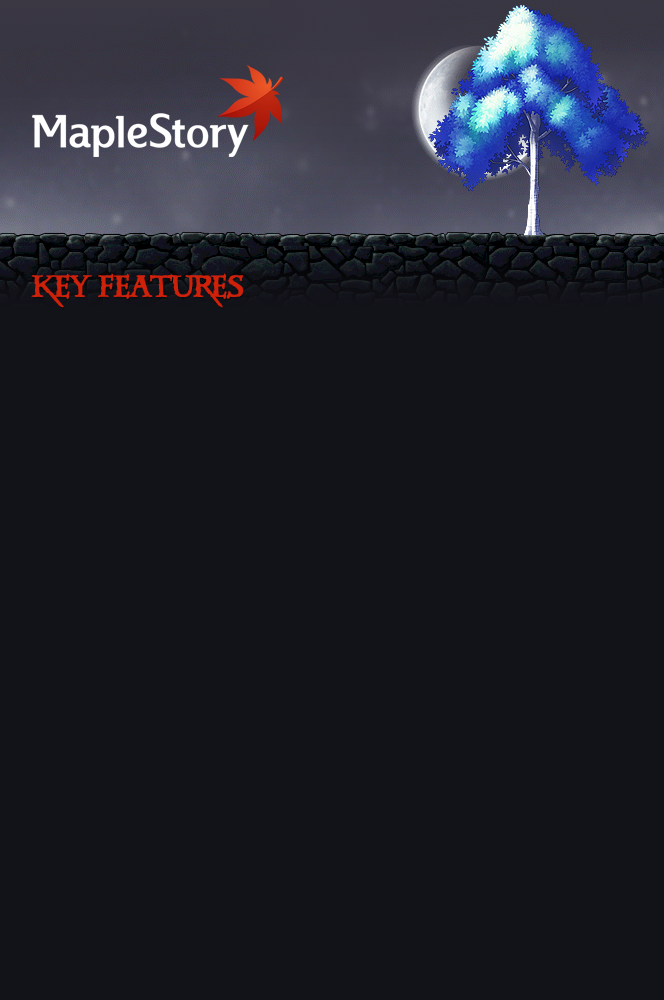 No monthly subscription fees. No locked "premium" areas.
Paid content does not limit gameplay progression.


Players can choose from 20 classes, each with dozens of skills to aid them in defeating monsters, traversing challenging platforming puzzles, or conquering dungeons with friends.


Players can customize their character with hundreds of items, hairstyles, and accessories. The selection is constantly growing and changing, allowing players to be almost anything they can imagine. Chat with friends, create a guild, take on a dungeon, or undercut the competition in the Free Market; MapleStory is a vibrant online world where players meet and interact in dozens of ways.


Players immerse themselves in a thriving world of high-fantasy, pop-culture, foreign lands, and everything in between. Maple World is an ever-growing land full of unique monsters and unforgettable NPCs. From the rocky mountains of Perion to the charming atmosphere of Amoria, to the peaceful fields of Henesys, MapleStory truly has a place for all to enjoy.


| | Minimum Specs | Recommended Specs |
| --- | --- | --- |
| OS | Windows 98/2K/XP | Windows 7/8 |
| CPU | P 3-1GHz | P 4-1.8GHz |
| RAM | 128MB | 256MB |
| HDD | 1.5GB | 3GB |
| VGA | 3D Acceleration card | 3D Acceleration card |
| Sound | No Sound Card | 16bit Sound Card |
| Internet Connection | 56kbps Modem | Cable or DSL |

Last
edited
by
Lesley Pro_04
on 7 February 2014 at 22:19
This page has been accessed 18,402 times.